Brunswick Cue Wallrack Cenntenial Chestnut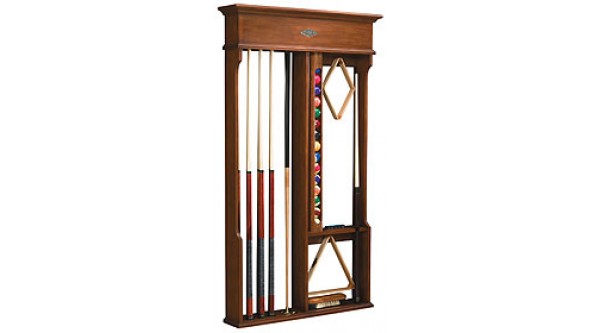 Availability:

available

Item no.:

40850

Content:

1 Piece

Manufacturer:

Brunswick
The innovative design of the wall rack combines elegance and beauty with function and utility. Featuring our patented ball storage tube the Chestnut Centennial wall rack is designed to hold the contents of the Centennial Play Package including the bridge stick and shorty cue, a full set of billiard balls, an 8-ball rack and a 9-ball rack, table brush, chalk, and up to eight cues.
Shipment information:
This product is a spedition product. Products purchased together with this one have limited forwarding options.
Spedition - Delivery by forwarder
The Table will be delivered by our Forwarder in Germany. If you wish a setup (additional charge) from our fitters please contact us. Orders from Outside of Germany must be pickup throught the customer.
Weight ()
Zone
Price
unlimited
Inland:
Germany

€79.00
- Pickup through the customer
Weight ()
Zone
Price
unlimited
Pick up Customer countries:
Switzerland
Austria
Belgium
Bulgaria
Croatia
Cyprus
Czech Republic
Denmark
Estonia
Finland
France
Germany
Greece
Hungary
Ireland
Italy
Liechtenstein
Lithuania
Luxembourg
Macedonia
Monaco
Montenegro
Netherlands
Norway
Poland
Portugal
Romania
Slovakia
Slovenia
Spain
Sweden
United Kingdom

€0.00
unlimited
Inland:
Germany

€0.00
We process your order today, if you place your order until 2 PM and pay by wire transfer, credit card or COD.
available