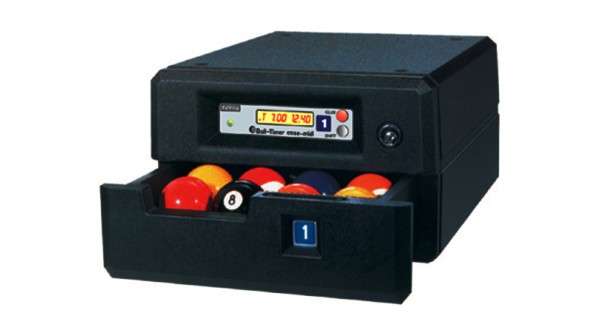 Availability:

shortly available

Item no.:

40569

Content:

1 Piece

Manufacturer:

Ball Timer
All Ball-Timer devices have the same basic principle: the billiard balls on a table are in the drawer and are monitored there by contact cams. If balls are removed from the drawer, the counting of fees is automatically started. To play, the drawer is taken out and given to the player. If you press the club button on the windscreen, you switch to the club tariff. The game ends when the drawer with all the balls is pushed back. Then the fee counting is stopped, provided that no ball is missing and the displayed game amount can be settled. The game fee remains on the display and only when the drawer is pulled out again is it set to 00.00. Depending on the type, the basic tariff, the club tariff and up to 4 tariff zones can be defined via settings in the editor, including the minimum playing fee. The operator can call up and delete a shift total by pressing a button. Executive accounting is displayed using a key and password or can be printed out as a receipt using the machine printer.

In addition to the turnover, the last statement with the date is also printed out. Any tampering with the device is recorded and reported. The table lighting can also be connected and switched. The devices are network-capable. An Accu-Set takes over the ball control, with "power off" each ball withdrawal is calculated.



Details:
battery protected
Real time clock with battery
Ball control for all balls
LCD Display
Basic & Club rate
2 time zones
2 electronic counters + additional mechanical counter
"boss" billing
Shift accounting
Printer connection
Network capable
Lighting control
Shipment information:
Transportation - Packet
The Order will be delivered with GLS or DHL Parcel service.
Free delivery from 100, - Euro order value for billiard shop orders within Germany. Valid for billiard items: cues & billiard accessories.
Weight ()
Zone
Price
unlimited
Inland:
Germany

€7.50
unlimited
AT:
Austria

€14.50
unlimited
Paketdienst ohne Mwst. inkl. Ausfuhrzollverfahren:
Switzerland
Liechtenstein
Monaco
Norway
United Kingdom

€34.90
unlimited
DK:
Denmark

€17.50
unlimited
FR:
France

€23.50
unlimited
Parcel service EU (zone 1):
Belgium
Luxembourg
Netherlands

€15.90
unlimited
Parcel service EU (zone 2):
Czech Republic
Poland

€23.50
unlimited
Parcel service EU (zone 3):
Hungary
Italy
Slovakia
Slovenia
Spain
Sweden

€24.50
unlimited
Parcel service EU (zone 4):
Bulgaria
Croatia
Cyprus
Estonia
Finland
Greece
Ireland
Latvia
Lithuania
Macedonia
Montenegro
Portugal
Romania

€25.50
- Pickup through the customer
Weight ()
Zone
Price
unlimited
Pick up Customer countries:
Switzerland
Austria
Belgium
Bulgaria
Croatia
Cyprus
Czech Republic
Denmark
Estonia
Finland
France
Germany
Greece
Hungary
Ireland
Italy
Latvia
Liechtenstein
Lithuania
Luxembourg
Macedonia
Monaco
Montenegro
Netherlands
Norway
Poland
Portugal
Romania
Slovakia
Slovenia
Spain
Sweden
United Kingdom

€0.00
unlimited
Inland:
Germany

€0.00
This item is already ordered and can be delivered soon.
shortly available